The Speed World Championship has a rich history. Rules, drivers, places many things are linked to this history, but today, we'll focus on the constructors.
Since the beginning, a few brands have marked the Championship; the first was MV Agusta.
The story of the Italian constructors started like a few others during the First World War. A Sicilian aristocrat Count Giovanni Agusta created the company in 1907. Despite his intention, it began as an aeronautics company; they started to build motorcycles after World War I to avoid being shut down. The project had started before, so it was easy to start anew.
They entered their first Championship race in 1950; they were the first to create the five-speed gearbox. They had a great season start in 52, but after 53 people died at the Isle of Man TT, it diminished their joy, so they withdrew for the year. After that, in 1958, as people started to stop racing in the different categories, they began to win. In 58, they won 8 titles and many races, especially with John Surtees. They continued to win championships and most races until 1966, accompanied by their star driver, Giacomo Agostini. That year Honda arrived in the Championship. It was the first time they had had real competition in almost ten years. Agostini was still crowned because of Honda's reliability issues and won in 67. Honda pulled out in 68, and the Italian association continued to win. They were the only stable team against new and evolving teams and knew the sport. 
Honda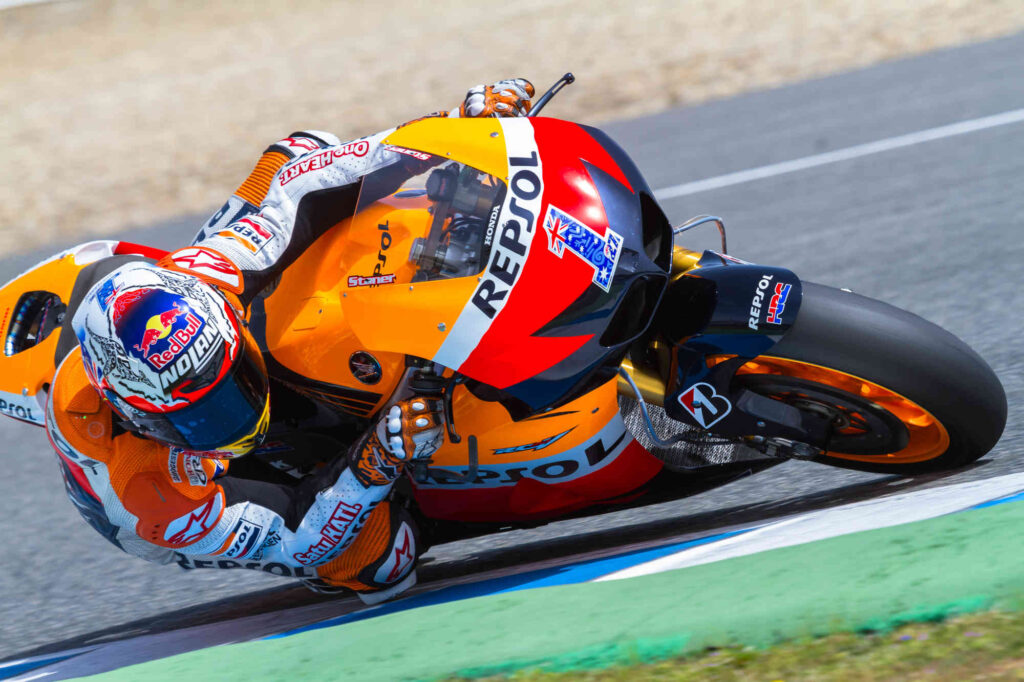 Honda is a name that all people know. They managed to make a name for themselves as the best-selling manufacturer in the world, and for a reason, but the conception of the bikes started by bringing innovation to the speed World Championship.
They first entered racing in Europe through the classic Isle of Man TT in 1959. They were the first Japanese team to join the World Championship. In 1960 they were racing in two categories, 125cc and 250cc. They moved to the big sister's category in 1967. Their six-cylinder engines and seven to ten-gearbox speed were very fast and brought many innovations. When in 1969, the FIM introduced new regulations to try and even out the playing field, they decided to leave.
Honda came back in 1977 in the 500cc category with a four-stroke engine, while the sport had mostly two-stroke engines. Despite their knowledge, the return did not bring success to the Japanese factory, and they left again in 1982, only for a year.
When they returned in 83, they had changed their philosophy on the sport and tried to adapt the bike to the new regulations, especially on tires. They produced their first two-stoke engine in 1985, and in 1992, they introduced the "big bang," a new machine with an unconventional ignition timing that made much noise. That new technology helped Mike Doohan win 5 championships in a row starting in 1994. And this new strategy worked great because they took the fight to Roberts and ended up winning the title by two points. 
The following significant change came in 2009 with a lot more off-season work with computers and the tyers revolution. Those data- analyses helped the development of the commercial bikes. With Casey Stoner in 2011, they won their 60th constructors title. In 2013 they signed Marc Marquez, and he will mark the history of the bike, making it evolve. He shaped it for his aggressive riding style as Honda brought more technological innovations. 
Today they have 18 rider's World Championship titles and 22 constructors' titles in the highest class, but across all the categories, they have 65 titles to their name. On the flip side, as Marquez was physically diminished, they started to have a rigid bike that was hard to drive. At the Sachsenring without "the King of the Ring," Marc Marquez, they hit a very low point by not scoring for the first time since their return in 1983.
Yamaha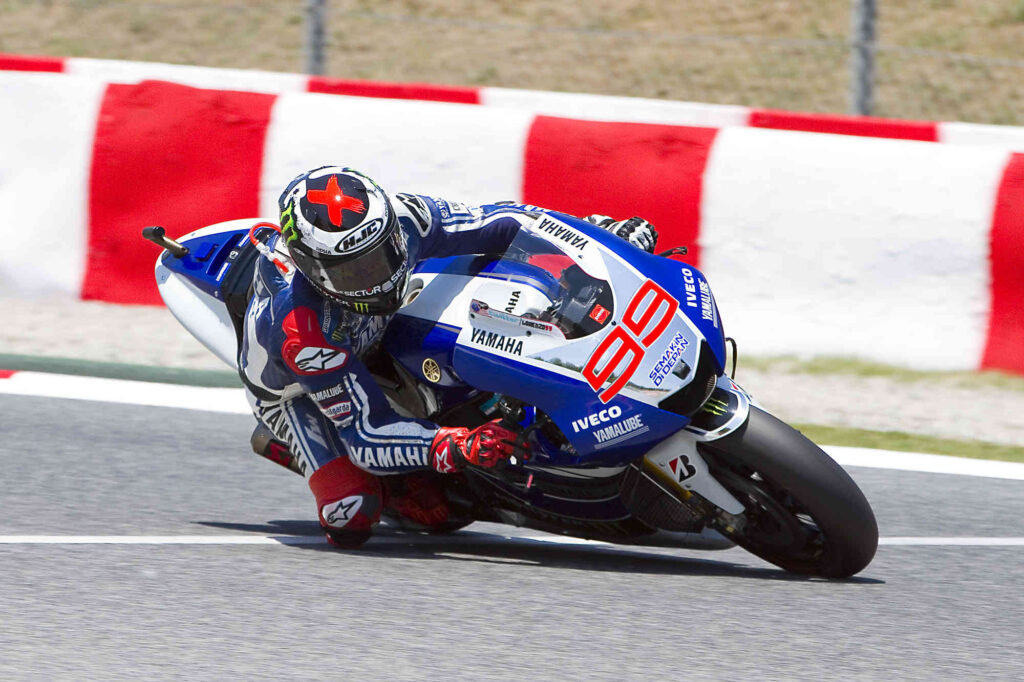 Another big team and another Japanese group, Yamaha, joined the road racing competition in 1961, just after Honda did. They had already started to race in Japan and were successful enough to enter the Daytona race with only Japanese riders. That year their rider, Fumio Ito, finished second for the Isle of Man TT, which directly impacted the European market. They started to make a name for themselves in Europe, and it got even better when they took their first win in the Championship in 1963, still with Ito. The year after that, they contacted European driver Phil Read, and they won four championships in two years with him. They continued to grow and took another dimension when in 1967, they won their first 125cc title.
As they made a name for themselves, they started to work on a 'road safe' racing bike that they could sell to amateurs who desired to try road racing legally. When they created this bike, the Japan Grand Prix was added to the calendar, and they became extremely popular, so the new bike sold with parts easily added to the bike to race was a hit.
Yamaha made its return with new regulations. They took a break from road racing to focus their efforts on dirt bikes and motocross racing. In 1973 they launched the YZR500 to race in 500cc and the YZR250 to race in, you guessed it, 250cc. Despite an early success that year, they did not finish the season because their driver died during a race.
When they came back in 1974, they brought Agostini freshly out of MV Augusta, and they conquered the 500cc title in 1975.
They stopped again in 76 to come back in 77, and after they failed to win Agostini, they recruited "King Kenny," Kenny Roberts, who would accompany them in one of their most successful eras. They were consistently in the battle for the title, and Roberts had two bikes that switched depending on the circuit. They created bikes after bikes to keep up with the regulation changes throughout the years and won many races a title during the 80s and 90s. 
With the new century came the biggest change the sport had seen and the arrival of the MotoGP era. In 2002 they created the YZR-M1 four-stoke four-in-line cylinder engine. They did not do well that year and did a 180 in 2003 as they signed Valentino Rossi. They won races and championships with him during the 2000s and created, with time, a bike that turned well. Today, it's the most significant advantage that a motorcycle has as it still lacks speed. 
Rossi started to be less efficient with the years but still took the fight to Lorenzo and Marquez in 2015. As Honda was the bike that won and they had no other star to replace Rossi, they tried many things, and as they saw Fabio Quartararo perform in the Yamaha Petronas satellite team, they decided to sign him in 2020. It was a challenging year for the bike and its driver. In 2021 the Frenchmen Quartararo won the first Yamaha Championship after 11 years without anything, bringing the team its 38th rider title. The Iwata factory bike still lacks speed. As the reigning Champion signed another contract with them a few weeks ago, they announced a collaboration with a Ferrari F1 engineer; to try and bring more speed. They want to elongate their already impressive track record of 37 constructor's titles, 47 125cc wins, 165 250cc wins, 63 350cc wins, 120 500cc wins, and since 2002 they have won 117 MotoGP races bringing them to an all-round 512 wins.
Suzuki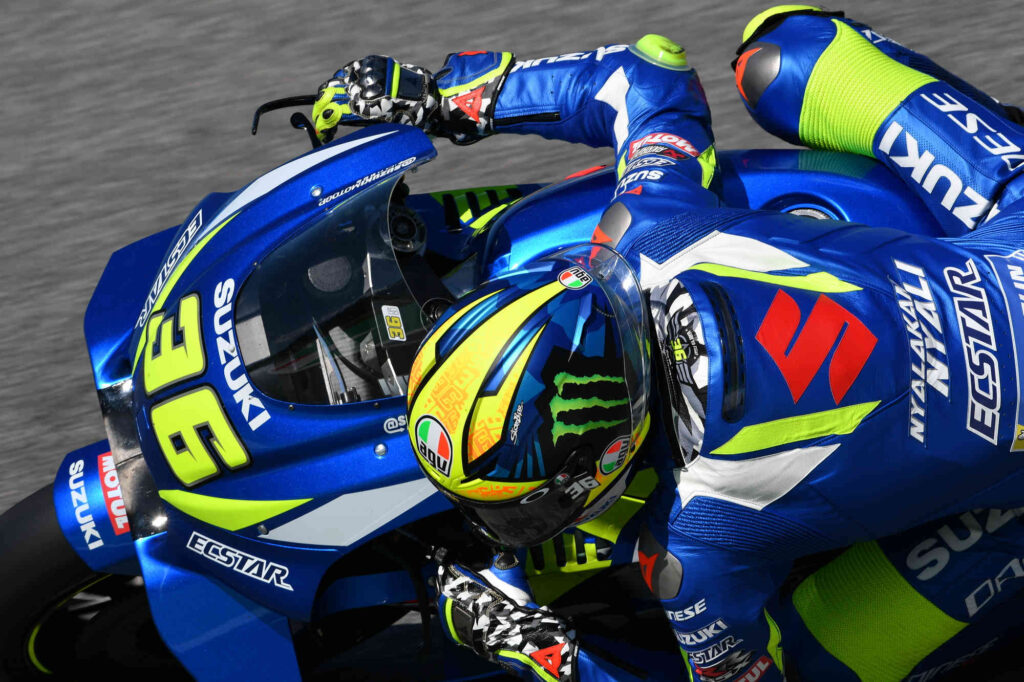 Staying with Japanese teams before coming back to Europe with the red bikes of Ducati. Suzuki was the second Japanese team to join the Championship in 1960 when they entered their first Isle of Man TT. They rapidly won their first title in 62 in the 50cc category with Hugh Anderson, who also won the first race victory that year. They continued to improve their bike, and in 65, they took their first Isle of Man TT victory, still with Anderson. They won championships in 63, 50cc, and 125cc, then again in 50cc in 64, and in 65, they took the 125cc title. Thanks to Hans-Georg Anscheidt, they seemed unstoppable in the smaller classes. They continued that success in small cylinder engine categories and took more titles until they launched a prototype in 1970. They wanted to confirm their success, but that time in the 500cc class, and they did just that as the prototype they presented to the world in 70, driven by Jack Findlay, gave them their first-ever 500cc victory on the 12th of August 1971.
In 1976 they signed Barry Sheene, which was the beginning of a Suzuki domination that was impressive despite lasting only two years. They took their first title in 500cc with him, and with the RG500 bike, they occupied the first six places in the championship standings. Entering the 80s, they collaborated with Marco Lucchinelli and Franco Uncini, and they took two successive titles with them in 81 and 82; the second year, they won the first five races after there was not much debate on who would win.
In 1993 we saw a new start rise, Kevin Schwantz, who will become famous for the phrase: "When I see God in know it's time to brake" he was a very late barker that made some hold their breath as he almost defied the laws of physics.
After him, they had in their ranks the son of a champion, Kenny Roberts Jr, that took the fight to the rising star of Honda at the time, Valentino Rossi.
When the MotoGP era arrived, they struggled to adapt to the new regulation and took some time to return to the top. They took their first MotoGP win in 2007 On a rain-soaked Le Mans circuit. After that, they took a break from 2011 until 2015, when they came back. That time they were quicker to be back on a podium as they took on the year after with Maverick Viñales in Silverstone, England. The win came in 2019 in Texas with Alex Rins; in Silverstone again, they ended up 4th in the Championship that year. In 2020, in a year marked by the Covid-19 Pandemic, they took their first title since Roberts Jr in 2000. They were expected to be at the top for the next season, but it was a disaster for the riders who fell and saw their lack of speed on one lap ruin their qualification, depriving them of good results. This year they announced that due to financial difficulties, they will be withdrawing from the sport starting in 2023.
Despite their withdrawal from the MotoGP racing world at the end of the year, they will continue to race in the endurance championship that they are dominating thanks to their reliability which was also a significant advantage in Grand Prix racing.
Ducati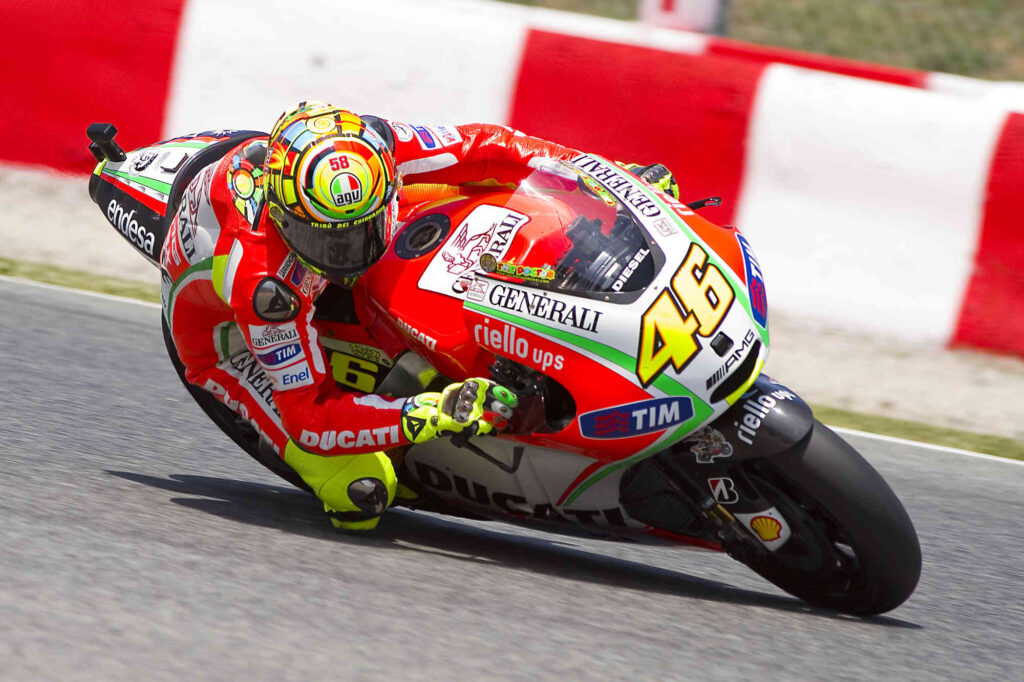 The sport that started as exclusively European started to be dominated and driven by non-European teams. Today Ducati is part of the only two European teams, the second one being Aprilia, but as it stands today, they are the most present bike on the grid. Today they have a reputation of being the fasted bike, making them a very popular brand in and out of the paddock.
Their racing history started in the 40s with small bikes, and they had a lot of riders ready to take those bikes on circuits. As it is said at the time, people on Ducati's were not just driving them. It was a lifestyle to be a Ducati rider; they lived for the brand. Ducati's first motorcycles were named the Cucciolo, meaning puppy in Italian. Those small bikes were extremely fast. They broke twelve-speed records. They had to wait until 1956 to harvest their first championship points in 125cc at their national race in Monza. They took their first 250cc point in 1960 to do the same in 500cc. They had to wait ten years. In 1972 they came out with their first V-twin, now a landmark of the brand, giving them their first 500cc championship points. And the year after, they finally won their first 500cc Grand Prix again in Italy, but this time in Imola. They continued racing with ups and downs until Hailwood won the Ilse of Man TT in 1978, securing the Championship for Ducati. The speed racing championship was not a success, but they were competing in other Championship where they succeeded, like in Superbike.
In 1986 they created the Pantah, changing the engine. These engines are still used today, and this bike is considered the common ancestor of all other bikes the Italian factory produces today.
With the regulation change in 2002, Ducati decided to try to make a new bike to suit those changes. They took part in the Championship starting in 2003 and never stopped since they were mildly successful, only winning one title in 2007 with Casey Stoner and 3 Constructors' titles in 2020 and 2021. They won a total of 18 titles, 15 riders titles, and won 407 races. Since 2003 they have won 64 Grand Prix as of now. They are nowadays the team that brings the technological innovations to the sport, and they have the fastest engine helping them win more races that helped them secure the constructor's titles in the last two years.